Tauha Te Kani Matariki hunga, matarikiahunga nui
With its many admirers, Matariki brings us together
Did you know Te Ātiawa ki Te Whanganui a Tara celebrate Puanga at this time of year.
'Ko Puanga te pae ārahi i ngā tohu o te tau hou i te pae ururangi' 
'Puanga leads the celestial signs to herald the New Year.'
All iwi celebrate the Māori New Year in June or July, but not all iwi refer specifically to this time of year as Matariki. Instead, other iwi will name this time of year 'Puanga'.
Puanga is given prominence mainly because some iwi (tribes) struggle to see Matariki clearly from their locality and therefore look to the next important star near Matariki. That star is Puanga.
This is not a rejection of Matariki as many iwi will still refer to Matariki and the other names in the constellation in their tribal narratives, however Puanga is given preference.
What is Puanga?
Puanga is the star Rigel and is the brightest star in the Orion constellation. Matariki is seen below Puanga and to the left of Tautoru (the three stars of Orion's Belt) in the late autumn and early winter night sky.  Click here for more information about Puanga.
Our Matariki Programme
Our programme will run over two weekends during Wellington City Matariki Celebrations 17-26 July 2020.
Friday 17 July 2020
3.30pm
– Opening at Matariki Celebrations at Wharewaka
– Karakia mo Matariki gifted by Ben Ngaia
– Release of Matariki video
– Waka salute on water – Whairepo Lagoon
– Launch of 'Ngā  Pou o Roto' Exhibition
Friday 24 July
12 – 8pm
– 'Ngā Pou o Roto'  Exhibition open
Saturday 18 July & Saturday 25 July
12-4pm
– Weaving  with Te Roopu Raranga o Manaia
– Join our weavers display and sales
– Wharewaka o Pōneke merchandise
–  'Ngā Pou o Roto'  Exhibition open
5-6pm
– Meet our Artist – Taupuruariki (Ariki) Brightwell
8pm
– Close

Ngā Pou o Roto – Exhibition
Join us at Te Wharewaka o Pōneke as we take you through a journey of discovery this Matariki. Take some time to reflect on our stories of arrival in Te Whanganui a Tara  from Te Ātiawa ki Te Whanganui a Tara and explore our rich Māori history.
Tū tama roto, tū Tama waho – To know oneself, is to know others.
Our story unfolds through Ngā Pou o Roto Exhibition, a series of fourteen banners that have been created with images by artist Taupuruariki (Ariki) Brightwell. The stories written on each banner are told by mana whenua Te Ātiawa ki Te Whanganui a Tara.
Suspended above our waka Te Hononga – Te Hononga means to bind people together – Ngā Pou o Roto provides an opportunity for discussion, learning and reflecting on our shared history to bring about understanding and leave us with a desire to learn more. The exhibition will be on display in the waka space from 17-26 July and is free for all to view over two weekends. Other Matariki activities happening in Odlins Plaza and Te Papa can be found on Wellington City Councils website – read more here.
Ngā Pou o Roto Exhibition has been supported by Wellington City Council.
Meet our Artist
Why not take this exclusive opportunity to learn a little more about each artwork that has been brought to life by Taupuruariki (Ariki) Brightwell an indigenous artist of Māori, Tahitian and Rarotongan descent, born in Turanga Nui a Kiwa now residing in Wellington.
Like her father and the generations before him, Ariki comes from an unbroken line of artists spanning generations bringing a deep passion for creativity and storytelling. Growing up Ariki has always been fascinated in the arts from the realms of pop culture such as American cartoons and comics, to Japanese anime, manga to the stories of Aotearoa, Hawaiki Nui, Hawaiki Roa, Hawaiki Pamamao. With the inspiration of her whakapapa and international art forms Ariki has created her own unique insight into a form of contemporary indigenous art.
Places are limited to 30 people and this talk will take approximately an hour.
– Koha will be accepted and rangatahi are welcome.
– Bookings are essential.
Book Here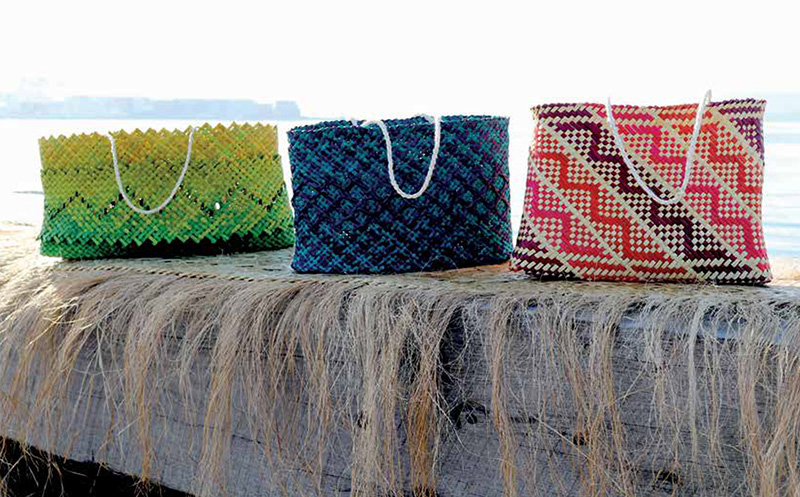 Te Roopu Raranga o Manaia
Join members of our weaving group based at Hikoikoi, Petone who would love to spend some time talking to you about raranga (the art of weaving). Te Roopu Raranga o Manaia meet every Thursday night at Hikoikoi to learn a little more from each other and keep this kaupapa alive. These skilled weavers contribute and complete projects all across our region. Their passion, skill, knowledge and aroha is captured and evident in each uniquely crafted piece.
Members of the group will have items for sale with EFTPOS available on site. To learn more about our weavers click here.
He Karakia mō Matariki
Tuia i runga, tuia i raro
Tuia te here tangata i a Nukuārangi
Ki a Puanga Kai Rau, ki a Matariki Ahunga Nui
Tō mata tini me pā ki roto, tō mata tini me pā ki waho
Kia horahia te kura, he kura nui, he kura roa
He kura takatū mai i a rongotaketake
Ka rongo te pō, ka rongo te ao
Ka rongo i te ahi kā roa i tūārangi te whakaeke nei
Ka whakaeke te haukai kia tina
Ka whakaeke te haukai kia toka
Ka whakaeke te haukai kia uru ora
Whiti, whano, tau mai te mouri
Haumi e!  Hui e!  Tāiki e!
Nā Ben Ngaia
Puanga or Rigel is symbolic to Te Ātiawa/Taranaki Whānui ki Te Upoko-o-te-Ika  establishing the beginning of the lunar calendar.
He Karakia mō Matariki
Woven from above, woven below
Enterlacing our fundamental virtues to be in balance with the celestial and humane realms
To Puanga and Matariki, bringing forth aspirations of kindness and generosity
May your divine countenance be imbued inherently, manifesting itself throughout the community
So that goodwill is declared, may it be strong and enduring
An enduring gift established on the pillar of peace
Resounding throughout times of hardship and times of abundance
Resounding are the fires of ancestral connection, from times immemorial that ascend forth
May the gifts shared from one to another be upheld
May these gifts be affirmed
May these gifts sustain life and its vitality, may it be enduring
Proceed forth with hope, bringing balance to our lives
Bringing people together as one!
He karakia mō Matariki has been gifted to Wharewaka o Pōneke to share with Wellington City as we reflect on the events of the past, we look to the heavens for guidance as we move towards the future.